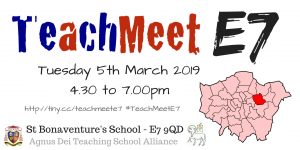 TeachMeetE7
Tuesday 5th March 2019
4.30 to 7.00pm
Agnus Dei Teaching School Alliance
Hosted by St Bonaventure's School, E7 9QD
"A TeachMeet is an organised but informal meeting (in the style of an unconference) for teachers to share good practice, practical innovations and personal insights in teaching"
What is a TeachMeet? Watch this short video
Want to sponsor? Want to present? Email us now!
(Please note we have a "teachers only / no sales pitches" policy)
From 6pm, Mark will provide some input on Ofsted myth-busting before discussing the new framework and what it means for teachers. He will then offer a Q&A session where anyone in attendance will be able to ask a question. This is an excellent opportunity for everyone to pose key questions to a senior representative from Ofsted.
Please note that 4.30-6pm will be a conventional TeachMeet with teachers presenting their best practice. 
Kindly sponsored by:
Make sure you come along to win some AMAZING prizes from our sponsors!