"The music is not in the notes, but in the silence in between." – Mozart
Above: St. Bonaventure's Choir performing at the October 2018 lunchtime concert
At St. Bonaventure's, our aim is to provide a high-quality, diverse music curriculum which will enable every child to reach their full potential as young musicians in three main skills; performing, composing and appraising. Our students will have the chance to be creative, and will explore a variety of styles of music and different cultures. Every child will have the opportunity to perform in front of an audience both within and outside of school, be able to experience the joy of making music with other musicians during class time and in a variety of ensembles, and have the chance to attend trips to see live music being performed by professional musicians in world class venues.
KS3
All students in Year 7-9 have music lessons. We focus our learning around the three main skills in music; performing, composing and appraising (listening). 
Year 7
The pupils begin their music education at St. Bonaventure's exploring singing and keyboard. Pupils work on a solo piece though we also rehearse in smaller ensembles. The boys are encouraged to perform regularly to the class, improving their confidence in this essential skill. They also begin to apply knowledge of music theory to feedback to others and for their own reflection and Improvement.
In the Spring term, pupils develop their solo and ensemble skills on drums. They will learn how to perform in a group and to also improvise and create complex polyrhythmic compositions.
[drivr id="13B73SPhnI4dNaxB1omCUTHp9-YxY65aa" type="video"]
Joseph Showing his skills on the drums!
In the Summer term, pupils have the opportunity to learn to compose on a DAW (Digital Audio Workstation). They will learn how to play into a DAW and to also use MIDI instrument sounds. They will then develop their editing skills and learn how to structure a composition. All the time the students will consolidate their music theory skills evaluating their own and others compositions.
Year 8
In the Autumn term, pupils have fun and learn to play the Ukulele. They will learn to play in an ensemble and to also play solo. They will learn to play chords and pick melodies to become accomplished musicians.
Music Composition from one of our talented Musicians at St. Bons
In the Spring term, pupils create thier version of  a song in small bands. Throughout this term, pupils have the opportunity to develop their keyboard, guitar, singing and drum kit skills.
In the Summer term, pupils develop their music technology skills further by composing music on Logic Pro to a short movie extract. Pupils will listen to and analyse the musical features of Movie music and some of the key tools that composers use to match the action on screen.
Year 9
In Year 9, pupils begin the year by learning about the Blues. Pupils have the opportunity to listen to Blues music and build on their instrumental and band skills from Year 7/8, finishing in a performance of their own original Blues composition.
In the Spring term, pupils create their own piece of Urban/Club Dance music using Logic Pro Composition software. This is an extended project which gives the boys experience of the type of composition level and detail required for GCSE Music whilst learning about one of the most important contemporary musical genres.
In the Summer term, the boys are encouraged to either create or cover a popular song either in bands or a solo performance. This allows the boys to develop their composition and performance skills with a final performance at the end of their KS3 Music education.
During KS3, students will enhance their musical knowledge by carrying out homework on
software called "Focus on Sound". This allows them to explore even more different musical elements to compliment the practical work they do in the classroom to become well rounded musicians.
KS4
We currently offer two KS4 courses; GCSE Music and RSL (Rockschool) Music Technology.
GCSE Music – Eduqas GCSE Specification
Throughout the two years the students will cover three components; composing, performance and listening. Students will be required to submit two of their own compositions, two performances and sit a listening exam at the end of Year 11. 
Music Technology – RSL (Rockschool) Level 2 Certificate for Music Practitioners
The Music Technology course is designed for students who enjoy creating and producing their own music on a computer DAW (Digital Audio Workstation). The course is run over two years and students study the following components; Using a DAW, creating music, studio recording, sound creation. Pupils will also research different styles of music and give a presentation comparing and contrasting two different genres of their choice.
KS5
We currently offer the Eduqas A level Music course which is studied over the course of two years.
A Level Music – Eduqas A Level Specification
Students studying music at A Level must achieve a minimum of a Grade 6 in Music GCSE or be able to play an instrument to Grade 6 standard. Over the course of two years, the students will cover three components; composing, performance and listening. Students will have the option whether to specialise in performance or composition and will sit a listening exam at the end of Year 13.
We also hope to provide an alternative path in Music geared towards students who wish to follow the Music Tech route.
Music Technology – RSL (Rockschool) Level 3 Certificate for Music Practitioners
This is where students can take their skills in Music Sequencing, production and composing to the next level. This is an excellent choice for those who wish to explore a career in sound production and composing.
Extra-Curricular
The extra-curricular life of the Department is varied and hugely important to the work that we do in the school. It gives the students a chance to develop their skills further outside the classroom and helps to create a strong sense of community amongst the boys who participate. If you pop up to Music on any given day there is always something going on! Our music clubs are inclusive and open to all students. 
We have four main concerts a year – Christmas Carol Service; Christmas Concert; Spring Concert; Summer MAD Showcase (Mad, Art & Drama).  Students are encouraged to perform in these concerts and we showcase soloists, ensembles and bands as well as the ensembles that are run in school.
We also host informal lunchtime concerts once every half term where staff and students are invited to watch performances of musical items that the boys have prepared in and outside of lesson time.
The music department has been on several tours abroad. In 2014 students went to Germany and in October 2016 we took students to Italy. The students also have numerous opportunities to see professional musicians perform in music venues, such as west end musicals, professional orchestra performances and workshops with professional musicians.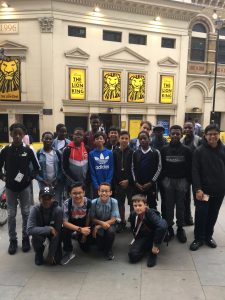 Above: students outside the Lyceum Theatre in London's West End, ready to watch The Lion King, April 2019
We work closely with Newham Music Service to provide instrumental lesson to our students. Students are currently able to take lessons in the following instruments:
Piano

Guitar

Drums

Trumpet

Violin
Vocals
Saxophone
Flute
Clarinet
Oboe
Please email Mr Hepplewhite, Curriculum Leader of Music, if you are interested in these lessons or have any other questions on p.hepplewhite@stbons.org