by  Mr Christopher McCormack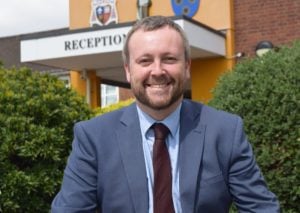 St Bonaventure's has a long and distinguished history. Our school has been providing the very best education for Roman Catholic boys in this area since before 1875. The school was founded on its current site in 1877 by the Franciscan Friars, making St Bonaventure's one of the oldest Catholic boys' schools in the country – only the London Oratory  is older.
2017 saw us celebrating 140 years of education in Forest Gate and although the World has changed immensely in that time, one thing remains the same and that is the love and care each student receives every single day by dedicated staff and teachers.
Our school motto,  "In Sanctitate et Doctrina" symbolises what we expect from all members of our school. We are a community,  based upon faith which impacts upon every element of our academic and personal lives and we expect everyone, adult and child, to ensure that they learn something new each day.
We are a Roman Catholic school, founded on gospel values and our boys are an important and integral part of the faith community. Christian principles are at the very heart of all that we do at St Bonaventure's.
We expect everyone in our school to make the most of their opportunities, to learn something new each day and to reflect upon their experiences. We expect our students to work hard and always try their very best at everything that they do. We will assist them, by providing them with the best possible learning environment and outstanding teaching, in an atmosphere of order, discipline and Christian love.
In November 2022, our Ofsted Inspection reported the school to be Outstanding in all areas. Particular highlights from the report:
"Pupils thrive in every way here. They succeed academically and are exceptionally well prepared for their next steps". 
"Pupils are safe, happy and cared for at this school. There is a climate of respect and compassion for all". Ofsted Nov 2022. 
"Pupils behaviour is exemplary". Ofsted Nov 2022. 
"Teachers are experts in their subjects". Ofsted Nov 2022. 
In July 2014 the Roman Catholic Diocese of Brentwood conducted their own Inspection of the school. They also found that we are Outstanding in all areas. I am very proud to be associated with a school that is a successful as St Bonaventure's and I thank all students and staff, both current and previous for all their hard work, effort and commitment to their Church and their education.
This is a school that every member of the school community feels privileged to be associated with.
We support charities on a local, national and international level. Our boys give freely of their time and their money.  Our CAFOD group raises over £2000 each year and we support Brentwood Catholic Children's Society, Caritas Anchor House, Richard House Children's Hospice and other charities.
St Bonaventure's is a unique school.