If you talk to a man in a language he understands, that goes to his head.
If you talk to him in his language, that goes to his heart.
Nelson Mandela
Curriculum Intent
In the French Department we understand that Languages are for life and we see the study of Modern Foreign Languages as an important part of our pupils' education. Whilst giving employment opportunities to our pupils, it also enables them to appreciate other cultures and people while enabling them to have a better understanding of their own. Our intention is to promote cultural awareness and develop our young people into global citizens of the 21st century through active, fun and independent learning.
Our Language lessons offer pupils the opportunity to develop listening, reading, speaking and writing skills in a creative environment in a range of ways including games, presentations, video clips, pair work, group work,  projects, on-line activities and the use of French Language Assistant. Pupils are encouraged to speak as much target language as possible in lessons and topics and materials are chosen to reflect the interests of our young people while enabling them to be successful at their GCSE and A-Level French Exam.
Trips and French Exchange.
The French Department regularly organise a 7 days Trip to Boulogne-Sur-Mer and a French Exchange to Alencon with the purpose of immersing the pupils into the French Culture and for our students to put into practice all they have learned in lessons and boost their confidence.
French Exchange 2019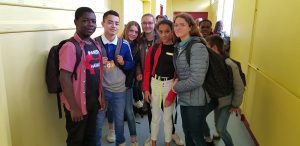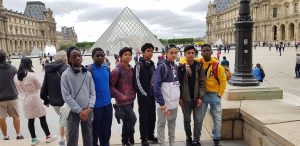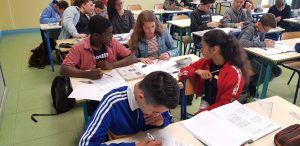 Staffing
All our French teachers are passionate about languages and specialists in their field.
In addition to teaching French we also teach Spanish or German to KS3,  KS4 and KS5.
Ms M Ngami– Curriculum Leader for French – m.ngami@stbons.org
Ms D Bittner – Curriculum Leader for German and Spanish d.bittner@stbons.org
Mr M Wade – 6th Form Senior Tutor – m.wade@stbons.org
Mrs E Templeman – Lead Practitioner & Professional Coordinating Mentor – e.templeman@stbons.org
Ms A Iova – MFL Teacher – a.iova@stbons.org
In addition to our Language teachers, we have a Foreign Language Assistant (FLA) for French. Our FLA runs lunchtime language clubs and during lesson time, provides pupils with the valuable opportunities for small group conversations in the target language.
Our Curriculum
KS3
Topics covered include:
Year 7
Year 8
Year 9

Introductions
Where I live
Sports & hobbies
School Life
Family & Descriptions
Art

Food & Shopping
Poetry
In my Town

Health & Fitness
Festivals & Holidays
Project learning including case studies of target language cities, target language films, famous people etc

From September 2016 we will be following the new AQA GCSE French specification.
KS4
Topics covered will include:
Y10
Y11
Identity and Culture:

Me, my family and friends
Technology in everyday life
Free-time Activities
Customs and Festivals
Local, National, International and Global Areas of Interests

Home, town, neighbourhood, region

Social issues
Global issues
Travel and tourism

Current and future study and Employment:

My Studies
Life at school / college
Education post-16
Jobs, career choices and ambitions
Grammar, skills and strategies
Across all Key Stages pupils will gain a variety of literacy strategies, practice skills in listening, speaking, reading and writing in the target language, and build on their knowledge of grammar and vocabulary. Pupils will learn how to:
understand and produce information on a variety of topics, both of personal interest as well as local and global interest, including opinions, justifications and arguments

understanding and producing information in the past, present and future tenses

use accurate grammar, spelling and punctuation.

understand and respond to a variety of spoken and written instructions in the target language

understand and respond to spoken and written information in a variety of forms, including songs, stories, poems, letters, articles, advertisements, pictures, posters

speak confidently in the target language with an understanding of the important of pronunciation, intonation and appropriate forms of address

translate meaning to and from the target language
KS5
From September 2016 we will be following the new AQA specification.
Topics covered include:
Year 12
The changing nature of family

The 'cyber-society'

The place of voluntary work

A culture proud of its heritage

Contemporary francophone music

Cinema: the 7th art form

Film study:

La Haine
Year 13
Positives Aspects of a Diverse Society (Tolerance, Marginalisation, How we treat Criminals)

Aspects of political life in the French Speaking World ( Young people and their right to vote, Strikes and who has the power, Politic and Immigration)
Comprehension Skills for literary texts
Individual research Project
Book study: Kiffe Kiffe Demain