The Work of Barak Rosenshine
If someone asks me, "What's the one thing that I should read to help me improve as a research informed teacher?", the answer would probably be Rosenshine's Principles of Instruction.
Rosenshine came to his conclusion about what makes effective teaching after four decades of work – both academic, in cognitive science, and in practice, observing 'master' teachers. He really focused on what students needed to help learn complex tasks and what made lessons effective.
He managed to then summarise his findings into both 10 Key Principles, summarised by Oliver Cavigioli in this poster – often found in staff rooms around the country: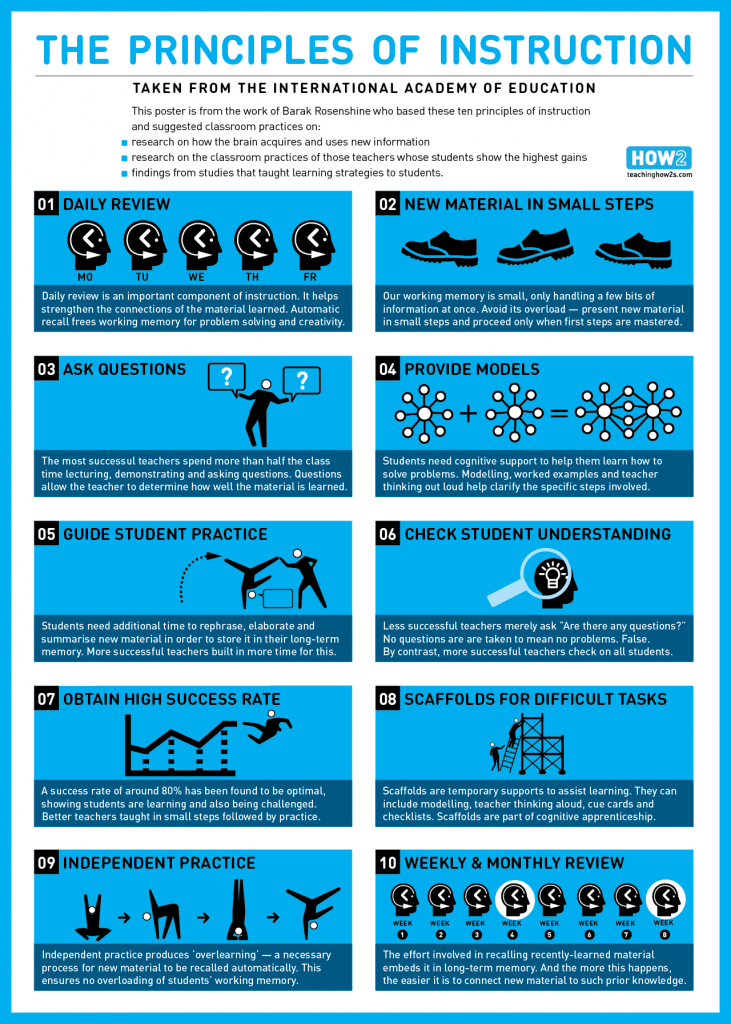 I found it useful, because over time I realised that my lessons, the ones I deliver daily, consist of 4 key things:
Recall
Questioning
Modelling
Practising
However they may happened in different orders, and certainly not equally, and not all in all lessons. It is not a lesson plan or formula. It was reassuring, that according to Rosenshine, I was perhaps doing something effective.
It was then interesting to see the work that Tom Sherrington had done in his book, which echoed my own thinking: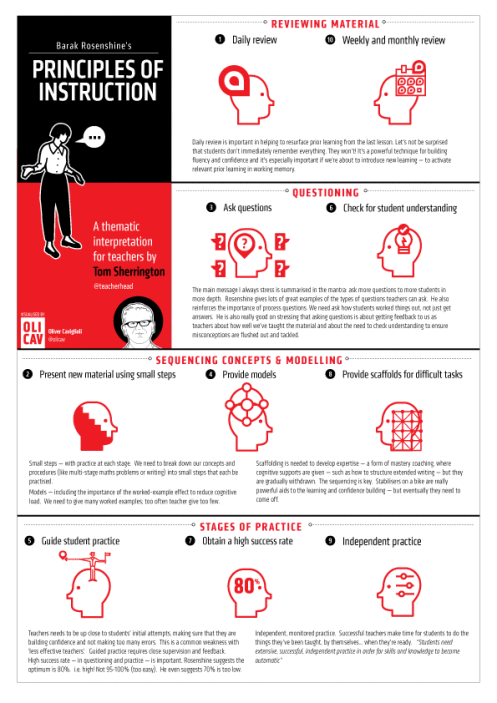 The line I like in Tom's book is from his concluding section:
"The question we should ask is not "Do we do this?". Most teachers will say that they do. We all ask questions, we all get students to practice, we all try to sequence concepts in small steps. The question we should ask is, "How well do we do this?"
I'm in agreement that Rosenshine does give us a few ideas on how we can all get a little better at these things.
In his work, 17 principles can be identified (that are organised into the 10) that are useful for us all to reflect upon when working out how we can effectively deliver lessons to the students in our care:
However we must recognise the danger of Rosenshine becoming the latest fad, or even a checklist. Zoe Enser highlights the potential problem:
I really do like Rosenshine. I think for some people his 2012 paper, perhaps his most recognised work, was like a gateway drug luring them into the exciting and heady world of research and pedagogical discussions. But for some it risks becoming either a stick to beat them with, a performance to put on or a checklist of a rigid idea of teaching. (The Dangers of Rosenshine)
My hope is that we can ensure 40 years of work, looking at effective teachers and lessons, can be used in a sensible way to help us all become better teachers.
Blog by Andy Lewis, Director of Agnus Dei Teaching School Alliance. Andy Lewis and Shahidur Rahman will be delivering a CPD afternoon on using Rosenshine effectively with all staff. See more details here.