G Suite for Education:
1.0 × 10100 Possibilities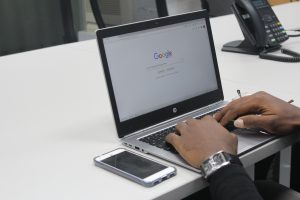 Cynics might cite Google offering a free digital learning platform with unlimited storage as another opportunity for a corporate giant to monitor our lives – but if my digital worksheet which helps students to identify the chords of the 12-bar-blues is worth monitoring, then I should ask for a pay rise.
I first heard about Google Classroom two years ago, from a student who had spent the previous three years at an English school in Thailand. Her brief introduction meant that I saw Google Classroom simply as a tool for sharing resources and as a convenient base for pupils to be set and upload work. It wasn't long before I learnt that digital learning is far more than a mere paper saving exercise. Google education has been a well established teaching platform globally for years. It takes little effort in the Google Search Engine to discover the wealth of resources and imaginative ideas for creating an engaging digital curriculum. As I researched and uncovered more about the possibilities, it became apparent that the scope for more advanced teaching and learning opportunities was huge.
I was inspired! 
Break times in the staff room used to be about grabbing a cup of coffee and catching up with friends. This was soon replaced with enthusiastic conversations where I would be demonstrating the latest Google feature I had discovered. I was desperate to show my colleagues what they were missing out on. Sure enough, members of other departments started reciprocating by approaching me with a spring in their step. "The internet's slow today", became "You've got to see this…!" or "I've just tried this out and the kids loved it". Enthusiasm for digital learning had become infectious and word was spreading. Within the space of a year, 19 subjects started using and embedding G Suite in their teaching practice.
Meaningful and well planned digital learning incorporates everything that continues to remain a "hot topic" in Teaching and Learning; directed learning, collaboration, cross-curricular learning, knowledge recall, it encourages metacognitive development and prepares our pupils for a digital world. 
So invested is Google in ensuring its tools are used to great effect that they have created interactive online courses. These are tiered to vary in difficulty and help professionals to explore a variety of approaches in incorporating the entire suite effectively in a school setting. Being a self-confessed Google geek, I decided to explore, learn and eventually complete the examinations to become a certified level 1 and 2 Google Educator during the 6 week summer break. After a year of leading staff CPD, I considered myself to be pretty well versed in the world of Google, but completing the exam process showed me that I had only scratched the surface.
Approach digital learning with an open mind. Don't assume it's not for you because you've only just mastered switching on a computer. And the best advice I can muster for anybody looking into how they might use Google effectively in their classroom is "Google it".
Geraldine McCoy is an SLE in the Agnus Dei Teaching School Alliance. She also completed the ADSLQ in 2019.
Geraldine is Head of Music and Chaplaincy Lead at Sacred Heart of Mary Girls' School in Upminster. Alliance SLEs have a number of days allocated each year for Alliance work. Please contact agnusdei@stbons.org if you would like Geraldine to work with your school, check out her profile here. She is on Twitter as @SHOMMusic