Last week will go down in history in school as our fabulous young basketballers in Year 7 and Year 8 won the Junior NBA category.
Coach Onierti went on to explain:  "It was a journey that started back in September where the Year 7 and 8 basketball teams played their first Jr NBA games of the season. Both teams won their respective leagues, they then went on a successful playoff run seeing off the likes of Bishop Challoner, Oaks Park School and Chadwell Heath Academy to advance to the the final 4. 
St Bons had made it to the year 7 Jr NBA finals in 4 consecutive years, managing to win 2 and come third twice. This year makes it 5 in a row and looking for our 3rd title. The first game was against St. Thomas Moore who played under the NBA franchise (Toronto Raptors), a thrilling game that was mostly dominated by St Bon's playing as
( Indiana Pacers). St Bon's finished the game 41-18 victory and advanced to play against Holy Trinity (Dallas Mavericks). 
The final was a one sided affair with St Bon's out classing Holy Trinity in every aspect of the game. The boys were superior in every position and went on to win 62-4. A well deserved win with a third title secured. 
This year will see the Jr NBA run a year 8 competition for the first time. St Bon's were playing under the franchise (Milwaukee Bucks)  and were looking to defend their title. The first game was against Wimbledon College (Atlanta Hawks) who entered the competition for the first time and had an impressive run to the finals. A nervy start from both teams made it a close encounter early on but the cool and calm St Bon's team slowly crept ahead and never looked back. They defended amazingly well and sailed to victory with a 54 – 18 win. They went on to face Kingsdale School (San Antonio Spurs) who were last years semi finalists.
The final game started well for St Bon's taking a early lead 11-6, things slowed down mid way through the first half as Kingsdale went on a 6-0 run. St Bon's would eventually gather their strength and eventually sail to victory with yet another impressive win 45-23. 
Winning one Jr NBA title was nice but winning two in a space of two days was special. Not only that, defending last year's title is more rewarding. It has been a successful campaign, one that will go down in St Bon's sporting history."
We can't argue with that.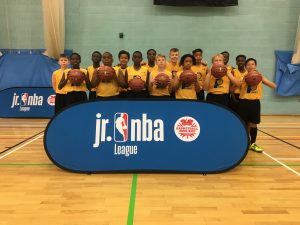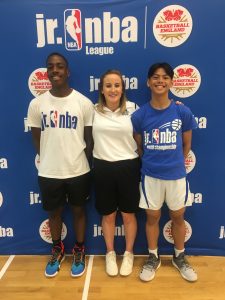 Marc and Noah were Junior NBA Ambassadors for the games too.