Drama at St Bonaventure's
'To grasp the full significance of life is the actor's duty, to interpret it is his problem, and to express it his dedication'
Marlon Brando

'It's what I learn from the great actors that I work with. Stillness. That's all and that's the hardest thing'
Morgan Freeman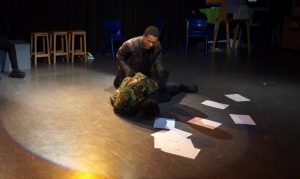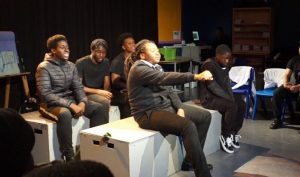 Philosophy
The drama department at St Bonaventure's school has very high standards for the students. Although we are delivering a comprehensive and challenging curriculum that helps to develop the students as actors, we are also hoping to help them find their voice and have the confidence and self belief to let others hear them.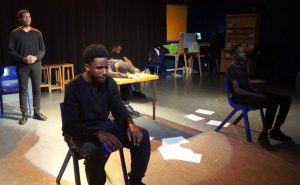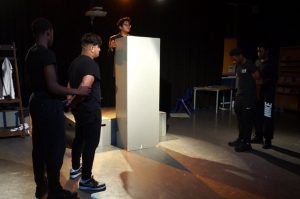 (Our current Yr11 students performing their devised pieces)
Drama at KS3
All students take Drama at KS3 for one hour and we aim to take them through a rigorous and demanding programme dealing with issues, exploring the art of storytelling and developing them as confident, articulate young men with strong opinions on their work and the work of their peers.
Examples of the topics and issues that we tackle in this Key Stage include Rites of Passage, Identity, and introductions to Modern Theatre such as Verbatim Theatre. They also study some history of theatre practically exploring Shakespeare and Greek Theatre. To develop their drama skills we examine Performance skills. They work with scripts, improvise and develop drama through facts and information. By the end of Key Stage Three we aim for students to have a comprehensive and wide ranging experience of Drama. This provides them with an excellent foundation if they wish to study Drama for GCSE.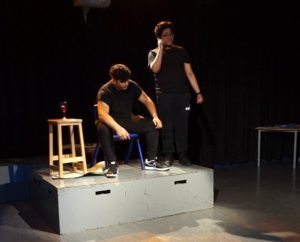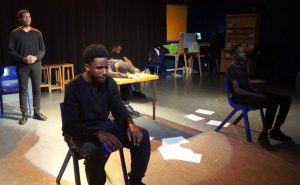 KS4 Drama GCSE
At KS4 we offer a GCSE in Drama. Students will study the EDUQAS board (which is the English element of WJEC). It offers them the opportunity to work in detail on a variety of aspects of drama and theatre.   We get out as much as possible to the theatre as it really benefits the students' understanding and knowledge of theatre. This also really enhances their own productions.                                                 WJEC GCSE Drama Exam Specification
Summary of Assessment:
Component 1: Devising Theatre (40%) – Students will devise their own performance using 4-6 Brechtian techniques/Physical Theatre techniques. This is internally assessed and externally moderated. Learners will be assessed on either acting or design. They study Brecht and/or Physical theatre and they practise devising in Yr10, but the final assessment takes place in the Autumn term of Yr11.  Students must also complete a written portfolio and evaluation on their production.
Component 2: Performance from a Text (20%) – Students will interpret 2 sections from a scripted play and perform this to an external examiner. Learners can be assessed on either acting or design.
Component 3: Interpreting Theatre (40%) – Written examination: 1 hour 30 minutes. This will include questions on a set text from an actor, director or designer's perspective and a live theatre review. The text is introduced in Yr10 and revised in Yr11. Students will also go and see lots of live theatre during the two year course to help prepare them for the evaluations.
Theatre links and productions
This year we are working with the following theatres and watching some of these plays.  The Donmar, The Yard Theatre, National Theatre, Frantic Assembly, Stratford Circus Arts Centre, Stratford East, The Lyric Hammersmith & Kneehigh Productions.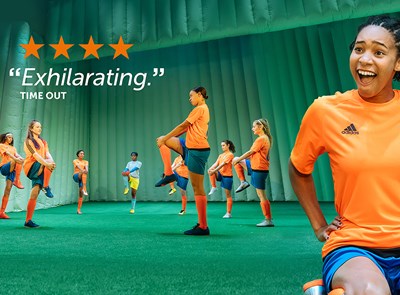 KS5 Drama A level
Hopefully we will be starting our drama A Level course soon… watch this space!